EastEnders spoilers: Lola Pearce makes a horrifying discovery about Ben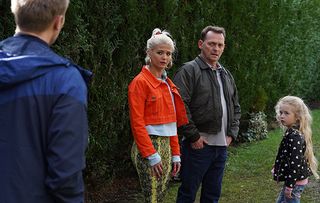 (Image credit: BBC / Kieron McCarron)
Lola uncovers some worrying news, Callum wants a job with Jay at the car lot and Bex shocks Kush when she moves in for a kiss
Ben and Keanu clash over a disagreement and end up coming to blows. Lola and Billy are quick to intervene and break up the fight. When Lola returns home she is shocked to find that Ewan has returned, insisting he wants to take her and Lexi back with him.
When Ewan reveals that Ben threatened his life, Billy and Lola refuse to believe him and force him out of the house. Lola, however, is rattled and she confronts Ben about Ewan's accusation. It becomes clear from Ben's reaction that Ewan was telling the truth. Furious, Lola warns Ben never to do that again and she heads to the club to drown her sorrows.
Worried for Lola, Mel calls Billy, who comes to collect her. Drunk and disheartened, Lola admits that Ben has got her involved in a plan to bring down Phil…
Jay and Ben need some help at the car lot and when Whitney suggests Jay speak to Callum, he agrees to give him an interview. When Callum ends up helping out with a customer at the funeral parlour, Jay is suitably impressed. But is it enough to get Callum a job? Meanwhile, Rainie still feels entitled to a job at the car lot and offers Jay her services. When he turns her down she is left fuming!
Bex and Kush visit Shakil's grave on the anniversary of his death. Overcome with the emotion of the moment, Bex tells a stunned Kush she loves him. What will Kush say?
Also, Tiff offers Keegan her support when she sees he's struggling. Karen makes a confession to Chantelle.
EastEnders continues on BBC1 on Tuesday at 7.30 pm
Get the latest updates, reviews and unmissable series to watch and more!
Thank you for signing up to Whattowatch. You will receive a verification email shortly.
There was a problem. Please refresh the page and try again.