EastEnders spoilers: Mick Carter meets a mystery woman - who is she?!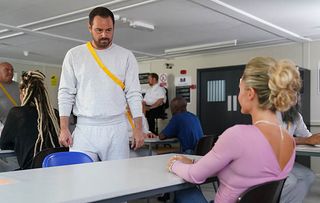 (Image credit: BBC / Kieron McCarron)
Mick gets himself in deeper with a dangerous prison inmate, Hunter is frustrated when Ray lets him down, and Sonia clashes with Bex over her education.
Mick Carter tries to hold his nerve in prison, still in fear for his life, and attempts to set the record straight with the scary inmate Fraser. Mick's cellmate Bob is alarmed that Mick's trying to talk to Fraser and advises him to keep his head down.
Despite the advice, Mick won't leave it and he approaches Fraser, who then tells Mick he needs another favour. In visiting hours, Mick meets with a mystery woman… Fraser speaks to Mick and gives him an ultimatum but will it put Mick in danger?
Hunter is frustrated by Mel and Ray's continual bickering. Wanting to find a way to bring them together, he offers to arrange a lunch for them. In the restaurant, Hunter tries to cook for Mel and Ray but makes a real mess of it. Masood is horrified to find Hunter in the kitchen.
But when he realises that Hunter is desperate he offers to help him out. All of Hunter's effort comes to nothing, however, when Ray is a no show. Hunter covers to Mel and gives the meal he prepared to Linda. But he's left in a dark mood…
Sonia arranges to meet up with Bex's head of sixth form to talk things through. But when the head mentions that Bex is on track to attend a top university, she bails on telling her that Bex is thinking of transferring. Thinking she's done the best for her daughter, Sonia is upset when Bex has a go at her for not taking her side.
Also, Keanu feels despondent when he can't get any work. When Sharon gives him the keys to one of Phil's cars to take up minicab work it makes him feel even more of a failure and hands them back.
EastEnders continues on BBC1 on Thursday
Get the latest updates, reviews and unmissable series to watch and more!
Thank you for signing up to Whattowatch. You will receive a verification email shortly.
There was a problem. Please refresh the page and try again.