Eight Go Rallying – Road to Saigon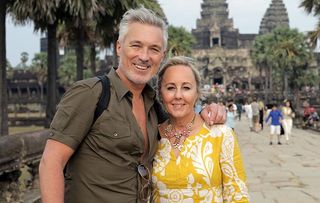 (Image credit: BBC/Optomen Television Limited)
The teams head for the Cambodian border, despite problems with two of the cars, and head for Angkor Wat, the centrepiece of the ancient Khmer empire
Two cars might have been taken out of action by the events of the first leg, but the celebrity duos manage to get back on the road during the second episode of this epic adventure in the Far East.
There's a mad dash for the border when the teams – including Martin Kemp and his wife Shirlie – realise the whole rally has to pass into Cambodia by early afternoon.
There's no let-up for either husband-and-wife duo Noel Edmonds and Liz or mother-and-daughter team Andi Oliver and Miquita.
They must drive into the night on challenging roads to avoid being left behind.
But it's all worth it when they get to experience the breathtaking grandeur of Angkor Wat, the mysterious centrepiece of the ancient Khmer empire.
TV Times rating: ****
Thank you for signing up to Whattowatch. You will receive a verification email shortly.
There was a problem. Please refresh the page and try again.