Emmerdale spoilers: Is this the moment Dawn learns Harriet has been at it with Will?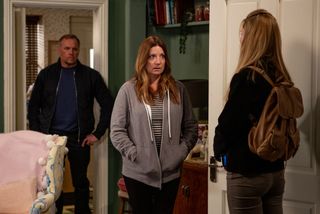 Dawn confronts Harriet and asks her if she's been sleeping with Will, her badboy dad! Will the vicar admit the truth?
Dawn Taylor (Olivia Bromley) is meant to be having the best day. All the hard work she's put in to getting sober and getting on track has paid off as she's got a meeting with her little boy Lucas, who's currently in care.
As the social worker gets things underway, Dawn is transfixed by her son. But Lucas won't engage with her at all. Though Dawn brushes off Lucas' dismissal initially, after a while it begins to sting and she leaves, humiliated.
At the factory, upset Dawn arrives at work only to bump into Jai (Chris Bisson) and Laurel (Charlotte Bellamy) having a secret fumble! With Dawn having been told by Harriet Finch that Jai's her secret man, in a bid to stop her working out she's slept with Will, Dawn's furious. Thinking Jai is cheating on Harriet, Dawn lays into them!
Meanwhile, back at Woodbine, Harriet (Katherine Dow Blyton) invites Will (Dean Andrews) in, and the chemistry between the exes sizzles in the air. Will Harriet relent and fall back into bed with the badboy who she's been holding at arm's length?
Back at the factory, after Laurel speaks up and tells Dawn she's barking up the wrong tree, Dawn wonders why Harriet's lied to her. As she storms back to Woodbine to confront the vicar, will she find Harriet and Will together? Will she learn the truth? And will her terrible day have addict Dawn reaching for a fix?
This is the first of tonight's episodes.
Get the latest updates, reviews and unmissable series to watch and more!
Thank you for signing up to Whattowatch. You will receive a verification email shortly.
There was a problem. Please refresh the page and try again.