Gary Canning has a tempting offer for Ben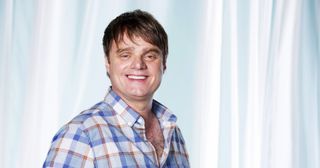 Gary Canning bribes Ben to take Xanthe to the formal
Gary Canning encourages Xanthe to ask Ben to the school formal, but feels terrible when Ben says no. Things get worse when Sheila invites dweeby Brinsley over to ask Xanthe to the formal – she's not a pity date! Gary's now even more determined to make things right for his little girl, and offers Ben money to take Xanthe as his date. Ben agrees, but only so he can buy tickets to the big 80s concert Susan and Karl want to go to, as he thinks they are broke. But if Xanthe ever finds out, she'll be devastated...
Amy confronts Aaron over the flyer she found on her ute, and he realises his talk with Ryan has made things worse. Feeling terrible, Aaron confides in Tom, who comes up with a plan to get rid of Ryan – he's going to offer him a cleaning contract, with traditional uniforms, at the hotel, on the proviso that Ryan leaves Amy alone. Aaron's grateful and realises that he's attracted to Tom.
Get the latest updates, reviews and unmissable series to watch and more!
Thank you for signing up to Whattowatch. You will receive a verification email shortly.
There was a problem. Please refresh the page and try again.