The Girl with the Dragon Tattoo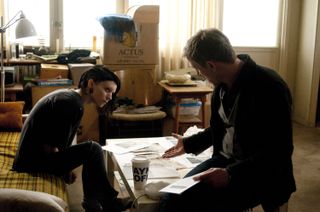 Daniel Craig and Rooney Mara nail their roles in this tense, bleak and gritty US remake of Stieg Larsson's Swedish bestseller
Daniel Craig and Rooney Mara nail their roles in this tense, bleak and gritty US remake of Stieg Larsson's Swedish bestseller.
With director David Fincher at the helm, it was clear that Hollywood wasn't going to pull any punches in remaking the original.
Sure enough, Fincher's film is dark and twisted, bleak and brutal: everything fans want. And it's not just the story's mood that he gets right. The casting is spot on, too. Mara is every bit as good as Noomi Rapace's iconic performance as punk-Goth computer hacker Lisbeth Salander in the original, perfectly capturing the character's spiky complexity.
Her tiny frame adorned with multiple tattoos and piercings, Mara's emotionally damaged Salander is both vulnerable waif and ferocious avenger.
Co-star Craig, as crusading journalist Mikael Blomkvist, proves a worthy foil, with enough brooding masculine charisma to make up for the fact that he alone among the cast doesn't attempt a Swedish accent.
As compelling as they are on their own, the film truly takes off when the pair come together to investigate the 40-year-old disappearance of a teenage girl from an island owned by a wealthy, seriously warped Swedish family.
And as they begin unravelling this tangled mystery, the film becomes as gripping on screen as it was on the page.
Get the latest updates, reviews and unmissable series to watch and more!
Thank you for signing up to Whattowatch. You will receive a verification email shortly.
There was a problem. Please refresh the page and try again.