Good Omens – Amazon Prime Video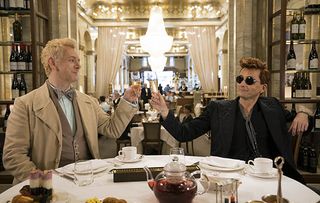 (Image credit: Chris Raphael)
Michael Sheen and David Tennant are an angel and a demon who join forces to save the world in epic new fantasy Good Omens…
Michael Sheen and David Tennant are an angel and a demon who join forces to save the world in epic new fantasy Good Omens…
Michael Sheen and David Tennant (pictured above) are two of our finest and most versatile actors and they are having the time of their lives in this glorious six-part adaptation of Neil Gaiman and Terry Pratchett's fantasy novel Good Omens.
Michael plays bookish angel Aziraphale, while David is showboating demon Crowley.
The two forge an unlikely but delicious alliance to save the world from Armageddon by tracking down the Antichrist, who just happens to be Adam, an 11-year-old boy with no clue of his destiny.
Daniel Mays, Jon Hamm and Anna Maxwell Martin also star and Benedict Cumberbatch voices Satan.
TV Times met up with David, 48, and Michael, 50, to find out more about the series…
How do Crowley and Aziraphale work together to stop the apocalypse?
David: It's a buddy movie. They are Yin and Yang and they need each other.
Neither of them is as angelic or demonic as they claim to be; they are both terribly human.
Because they've been on Earth for thousands of years, they've met in the middle and become one another's touchstone through the ages.
Now they have this common goal of averting the apocalypse simply because they rather like the world.
Michael: Yes, they definitely complement each other and help each other out.
There's something holier than thou about Aziraphale, but the edges do get knocked off him.
He has been around ever since the Garden of Eden and has fallen in love with humanity – and he might be just a bit in love with Crowley, too.
Or maybe that's just me and David!
It's been fun working together, then?
David: It's been fantastic.
We both did [2003 period comedy film] Bright Young Things and didn't have a scene together, but because I'd known Mike for a long time, this felt very easy.
Also, having someone this funny and talented made the job more appealing.
People have said they could imagine it being cast the other way around…
Michael: Yeah, but you look much better as a demon, so I'm glad it worked out this way!
I'd have done anything to play opposite David – I've been a fan of his for ages, so it's been absolutely lovely.
You both had to assume very distinctive looks for this show…
David: Crowley looks pretty rock 'n' roll and I like being a redhead!
I also have contact lenses [which are yellow with cat-like pupils] that transform your face.
Michael: David and I have to look extreme and very different, so Aziraphale's hair is completely peroxide blond.
But I don't like my roots coming through!
Aziraphale and Crowley drive around in a vintage Bentley – was that fun?
David: It gave me the heebie-jeebies because people kept telling me how expensive it was to insure!
Michael: You managed to throw it around the place with great gusto, though!
David: My father-in-law [actor Peter Davison] has just done a really charming show [C4's Great British Car Journeys] with him and Christopher Timothy driving round in old sports cars and bickering…
Michael: There's a series in that for us, I think!
All six episodes are available to watch as a box-set.
Get the What to Watch Newsletter
The latest updates, reviews and unmissable series to watch and more!