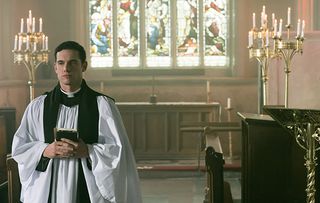 A relaxed Will is installed as the new vicar of Grantchester, though it is only just back at the vicarage when Geordie drops by requesting his help...
Grantchester vicar Will Davenport (Tom Brittney) causes pulses to quicken as he takes to the pulpit – the village girls are besotted, but for Mrs C his modern ways are an affront to all she holds dear.
She's horrified when he rolls his sleeves up and pours the tea himself!
Will's approach is clearly very different to Sidney's, not least when it comes to Geordie's work – he has no interest in becoming a rookie detective.
We're sure Geordie (Robson Green) will find a way to change that…
TV Times rating: ****
TV Times visited Cambridge on a gloriously sunny day last Summer to meet actor Tom Brittney, 28, the man who's stepping into the shoes of James Norton, who played Sidney.
What can you tell us about Will?
Will's young, ambitious and optimistic, and he's using his position in the church to fight for equal rights and stand up for the common man.
He's lovely and charming but underneath it there's quite a dark side that will come out.
There are secrets from his past that he buries…
He's very strong-headed and he can get angry sometimes, so he does boxing to help him control that.
How does Will get involved in the crime-solving?
Geordie just needs a vicar to help him – that's how it works in Grantchester!
Will doesn't take to it as easily as Sidney did; Geordie has to work harder.
There's a generation gap there, and Will sees the good in everything while Geordie sees the bad.
How does Will get on with Leonard and Mrs Chapman?
There's friction to start with, as there would be with any new vicar. We'll see if they warm to me. I hope they will…
Robson Green, who plays Geordie, had 'chemistry reads' with 14 other actors but says he instantly knew you were right for the role. What was the audition like?
Well, it didn't help that I was convinced that Will was a villain and had murdered someone – only when I got in the room did I realise I was there to potentially replace James Norton!
I grew up watching Robson and my mum is a big fan. I was nervous. But it was great. I walked in and we instantly hit it off.
When I walked out of the room I knew I was meant to play this role.
I wanted it more than anything and I was ringing my agent every single day afterwards to ask if they had heard anything. They kept me waiting for three weeks before they told me the good news!
Robson and I hang out now and we're really good friends – I miss him when we're not together. We're in the honeymoon phase at the moment!
Get the latest updates, reviews and unmissable series to watch and more!
Thank you for signing up to Whattowatch. You will receive a verification email shortly.
There was a problem. Please refresh the page and try again.