Great British Car Journeys – C4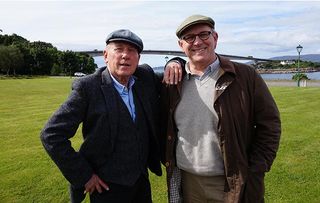 (Image credit: Turn TV Ltd / Channel 4 Televisi)
Actors Christopher Timothy and Peter Davison go on a retro road trip
Christopher Timothy and Peter Davison take a classic 1930s car along some of Britain's vintage roads, beginning with the route from Inverness to the Isle of Skye
You don't need to be a petrolhead to enjoy C4's travelogue, Great British Car Journeys.
The series reunites All Creatures Great & Small actors Christopher Timothy and Peter Davison.
They're taking divine drives around the country, recreating the glory days of motoring in the 1930s and 'sticking two fingers up' at satnav and motorways.
Today, they're in a sleek Morgan 4/4, driving 100 miles from Inverness to the Isle of Skye on old military roads.
As Peter takes the wheel and contends with dead ends and dicey bends, and Christopher gamely navigates with some rather out-of-date maps, the real highlight is the banter and genuine affection between the former co-stars.
TV Times rating: ****
Here, in an exclusive interview with TV Times, Peter, 67, tells us why teaming up with his old pal Christopher, 78, was so special…
Why did you want to take part in Great British Car Journeys?
Being with Chris is fun and I've always liked the idea of driving to places slowly.
Once you get off the motorway, part of the adventure is planning your route with shortcuts.
I've an interest in cars too, but I've never owned a classic one.
With the All Creatures cars, the main pressure was that when you were screaming around lanes and skidding to a halt, the cars' owners would be behind the camera, watching!
Did you like the vehicles in this?
I got to drive a Morgan 4/4 and it's a brilliant car, but impractical for two people who are getting on a bit, because it's almost impossible to get out of!
We saw some really old cars and met some real car enthusiasts, too.
One car from the 1900s was like a horseless carriage and we met a guy who'd built a rally car. I drove around some hairpin bends in Scotland in that, which was hair-raising!
Were there mishaps?
On one road in Scotland they'd made a reservoir over the route, while on our old map it was still a road, so we had to turn back.
And getting on to the ferry to Skye, there was a crunch! Going to the South West, we also had some early French cars that broke down, so we ended up pushing them.
There was an embarrassing moment too, when Chris and I re-created the mad picnics my family used to have beside the main road.
The traffic was more or less stationary, and everyone was wondering why two blokes from the TV were sitting beside the A30!
Get the latest updates, reviews and unmissable series to watch and more!
Thank you for signing up to Whattowatch. You will receive a verification email shortly.
There was a problem. Please refresh the page and try again.