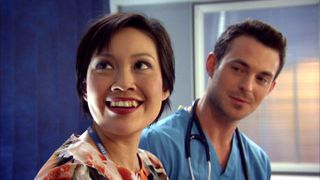 (Image credit: BBC)
Harry arrives at work full of swagger, having been invited to an exclusive black-tie dinner. But his mood is dampened when he discovers that not only is Raf the event's keynote speaker but that his wife, Amy, is now working permanently on the ward. Harry tries to remain professional around Amy, after his attempts to make a pass at her, but is intrigued when he notices tension between Raf and his wife and suspects they're not the happy couple they seem.
Then, when Raf muscles in on Harry's patient, an ex-glamour model with suspected appendicitis, a furious Harry decides to worm his way into Amy's affections as a means of getting back at Raf! When an argument between Raf and Amy results in her fleeing the ward in tears, Harry sees an opportunity to comfort her. As he does so, Amy confides in him that she's on her third round of IVF, which is putting a real strain on her marriage.
Later, when Raf's called onto an emergency case and is unable to take a dressed-up Amy to the dinner, a suited and booted Harry confidently tells Raf he'll escort her. Is Raf at risk of losing his wife to his nemesis?
Meanwhile, Sacha puts Dominic under pressure to deliver on the ward. Dominic rises to the challenge but when he offends his best friend Zosia in the process he has to go all out to win her back.
Also, Jonny returns to work, furious with Jac for trying to stop proceedings on his big day - will they be able to clear the air?
Get the latest updates, reviews and unmissable series to watch and more!
Thank you for signing up to Whattowatch. You will receive a verification email shortly.
There was a problem. Please refresh the page and try again.