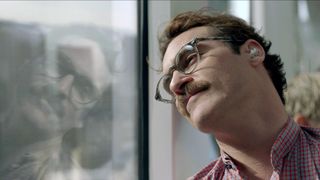 (Image credit: Alamy Stock Photo)
A man (Joaquin Phoenix) falls in love with his computer in this quirky romance for the social media age. 4/5 stars
Both an unsettling slice of cautionary sci-fi, and a strange but poignant love story, this film is set in a near-future LA where Phoenix's gentle, melancholy hero is nursing a broken heart following a painful break-up with his wife (Rooney Mara).
Seeking solace, he buys a talking, artificially intelligent computer operating system with which he can interact as if it were a real person. Voiced by Scarlett Johansson, the OS names itself Samantha and, evolving all the time, becomes ever more intimately bound up with his life.
She encourages him to go on a blind date with an attractive stranger, played by Olivia Wilde, but after the date ends in disaster he turns increasingly to his virtual relationship instead. Soon, human and computer are mutually falling in love...
Writer-director Spike Jonze made his movie debut with the surreal Being John Malkovich in 1999 and he's come up with a similarly quirky, thought-provoking film here, which deservedly won a Best Original Screenplay Oscar.
Kudos should also go to Phoenix and Johansson, whose beautifully judged performances help Jonze achieve a delicate balance of cool poise and real feeling as the story unfolds. Some viewers will recoil from the film's depiction of the AI of the future, others will long for their own 'Samantha' - and even more will recognise shrewd truths about the way we interact with technology, and each other, today.
Get the latest updates, reviews and unmissable series to watch and more!
Thank you for signing up to Whattowatch. You will receive a verification email shortly.
There was a problem. Please refresh the page and try again.