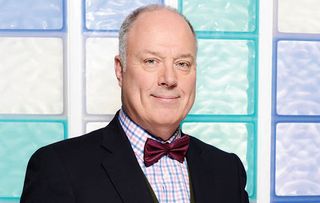 (Image credit: BBC / Kieron McCarron)
Heston is in a spot of bother...
Heston has been spying on drug dealer Rick, by waiting outside his place and taking photographs of everyone who enters and leaves. He phones Rob to tell him abut his findings but Rob isn't interested and tells Heston to back off and stick to the medical profession! Determined to put Rick and his associates in prison, Heston breaks into Rick's place - but will he be able to leave in one piece?
Meanwhile, Ben and Will try to get their relationship back on track, but things don't seem to be going in the right direction. Firstly, Ben refuses to open up about his parents. Next, Ben refuses to show Will affection in public. It's clear that Ben isn't proud of who he is - but can Will be with someone who is not open about their sexuality?
Tobi Oredein is an award-winning women's lifestyle journalist, media entrepreneur and international public speaker based in London, who focuses on race, feminism, beauty politics & popular culture. Tobi has been commissioned by Buzzfeed, British Glamour, Grazia, Elle UK, Fader, The Debrief, The Independent, The Pool, Stylist, Vice and others. She has also interviewed public figures such as Ryan Coogler, Ava Duvernay and Sir Trevor McDonald.
Get the latest updates, reviews and unmissable series to watch and more!
Thank you for signing up to Whattowatch. You will receive a verification email shortly.
There was a problem. Please refresh the page and try again.