Holby City spoilers: Dom suffers a breakdown after some SHOCK news!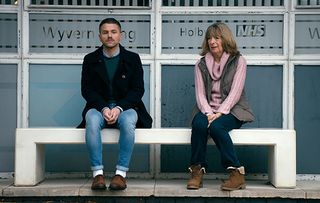 (Image credit: BBC)
Holby City favourite Dominic Copeland has a massive showdown with Ange then breaks down in tears when he makes a shock discovery about his past…
Ange Godard (Dawn Steele) got a major shock last week in Holby City when she realised she knew Dominic Copeland's mum Carole from her past. This week, medic Dom (David Ames) is stunned when he discovers exactly how they know each other…
Dom arrives at the hospital to find mum Carole (Julia Deakin) in a panic – she's got something important to tell him and it can't wait. But Dom urgently needs to get to work – that's when Carole suddenly blurts out a secret about his childhood…
When Dom turns up on the ward, Ange (Dawn Steele) can see his mind is elsewhere as they scrub in to operate on vulnerable young patient Leona. As Dom opens up to Ange about what Carole's told him, she says he can't be in theatre if he's distracted and sends him home.
Dom, however, decides to hang around the hospital. When Ange finds him, he's clearly got the weight of the world on his shoulders, so Ange tries to console him.
Later, Dom's assisting Ange in theatre when it dawns on him that, during their earlier chat, Ange said something that suggests she knows more about his family situation than she's letting on. He then makes a shock realisation…
Meanwhile, Chloe Godard's (Amy Lennox) on/off boyfriend Evan (Jack Ryder) returns to Holby this week with his sister Phoebe (played by Daisy Wood-Davis – aka Hollyoaks' schemer Kim Butterfield) who needs urgent treatment. Is he just trying to get closer to Chloe? And, more importantly, will the medic fall for his charms?
Also, Donna's on the warpath when she discovers her 13-year-old daughter Mia has a boyfriend, and Cameron makes an error on Darwin that jeopardises his place as junior doctor lead. But could someone else be to blame?
Holby City continues Tuesdays at 8pm on BBC1.
Get the latest updates, reviews and unmissable series to watch and more!
Thank you for signing up to Whattowatch. You will receive a verification email shortly.
There was a problem. Please refresh the page and try again.