Holby City spoilers: Jac Naylor wants Professor Gaskell OUT of Holby!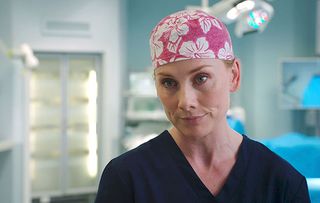 (Image credit: BBC)
With fiery surgeon Jac Naylor on the warpath, are the professor's risky practices finally going to be exposed?
Facing the prospect of being unable to walk, following a spinal injury, surgeon Jac Naylor was full of hope when Professor Gaskell operated on her as part of his pioneering stem cell implant trial. But she has grave concerns that she's put her trust in the hands of a fraud.
Jac and Gaskell (Paul McGann) team up when young patient, Josh Bloom, is re-admitted to Holby suffering from serious heart problems after undergoing the same spinal surgery as Jac. But as Jac battles to help save Josh, she's clearly plagued with doubts over her own health.
Meanwhile, plucky young medic Meena Chowdhury (Salma Hoque) stumbles on evidence that convinces her Gaskell's stem cell implants are faulty and that he's known all along. Meena tells the one person she believes can stop Gaskell in his tracks… Jac!
Later, as Josh undergoes further surgery, this time to relieve pressure on his spine, Jac discovers the boy is riddled with scar tissue that has most certainly developed from the implant.
When Josh starts bleeding out, there are real fears he could die. And knowing she too has one such implant in her spine, Jac is gripped with fear. Jac flees theatre in a panic, furious that Gaskell has known all along that the implants were faulty yet continued to experiment with patient's lives… and her life!
Jac tells Gaskell she wants the implant removed from her body – and she wants him out of Holby, too! How will Gaskell respond to Jac's demands?
Holby City continues Tuesdays at 8pm on BBC1.
Get the latest updates, reviews and unmissable series to watch and more!
Thank you for signing up to Whattowatch. You will receive a verification email shortly.
There was a problem. Please refresh the page and try again.