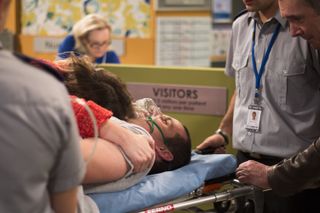 Sonya goes to the hospital with Toadie and is shocked when he confesses he can't feel his legs. Extensive testing soon reveals that his old bullet wound has been aggravated, requiring immediate surgery. Later, Karl tells Sonya that either the bullet has caused more damage, or the swelling is pinching some nerves. One outcome is permanent, the other will resolve itself. But, in any event, Toadie is paralysed for now.
Imogen tells Amber that she and Daniel are a couple and is relieved when she gives them her blessing. Later, Daniel tries to make a good impression on Terese and Brad but he eats Brad's paella, triggering an allergy, and throws up all over him. Brad's unimpressed, but softens when he realises how much Daniel cares for his daughter.
Naomi vents frustration at Paul's lack of support after the Open Day disaster and is overwhelmed with relief as he promises to support her.
Nate offers to babysit Nell so Susan can visit Toadie. He volunteers Ben to help him and the pair bond when Nate's experience in the army inspires Ben to create a fort for Nell.
Get the latest updates, reviews and unmissable series to watch and more!
Thank you for signing up to Whattowatch. You will receive a verification email shortly.
There was a problem. Please refresh the page and try again.