Jenny's in turmoil when she meets Jimmy again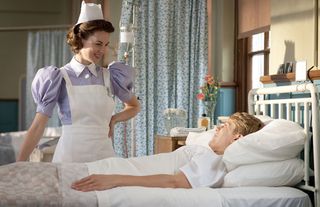 (Image credit: BBC/Neal Street/Laurence Cendrow)
Jenny has been selected to go back to men's surgical. However, she discovers that life in the hospital is very different from midwifery and she struggles with the pressure. She also discovers that long-time friend Jimmy is a patient at the hospital. They're both elated to see each other, but Jimmy then reveals that he is to marry Francine. Jimmy also tells Jenny that he doesn't feel as though he can go through with the marriage as it is not where his heart truly lies. Jenny is distraught at hearing of her friend's misery, but feels as though she cannot intervene. The day goes ahead, and Jenny is left watching and crestfallen as Jimmy and Francine leave the church under a veil of confetti and applause. While Cynthia is shopping at the market, she meets twins Meg and Mave Carter. She notices that one of the women is pregnant, but when she suggests that Mave comes to be seen, Meg explodes in a rage and tells Cynthia to mind her own business. It turns out that the pair's mother died in childbirth, and that they're both terrified of being around hospitals. However, under the cover of darkness, Mave arrives on her own, saying she doesn't want to upset Meg, but that she doesn't want any disasters either. Meanwhile, Mave goes into labour, which turns quickly and dramatically into a very dangerous situation. It's suddenly in doubt as to whether either Mave will even make it through unscathed. However, after a dramatic pregnancy, Mave gives birth to twin girls, who she also names Mave and Meg.
Get the latest updates, reviews and unmissable series to watch and more!
Thank you for signing up to Whattowatch. You will receive a verification email shortly.
There was a problem. Please refresh the page and try again.