Judi Dench's Wild Borneo Adventure – ITV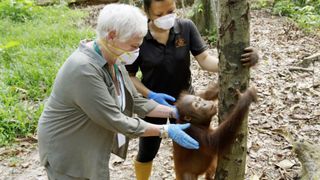 Dame Judi Dench calls time on her extraordinary jungle trip in the last of her visits to Borneo in ITV's Judi Dench's Wild Borneo Adventure
The second and final leg of Dame Judi's Dench's amazing adventure begins on the Kinabatangan River, which snakes from central Borneo to its stunning coastline.
Along the way Dame Judi stops off to meet some of the scientists who are working to protect the rainforest and the wildlife that calls it home.
Judi helps catch baby crocodiles, microchips a baby reticulated python (with the number 007, releasing it back into the wild with a licence to kill, of course!), feeds boisterous orphan elephants and plants a tree to help create a wildlife corridor.
MORE: Serengeti – BBC1 (opens in new tab)
But perhaps her most treasured memory will be holding the hand of an orphaned orang-utan, who is being carefully and lovingly prepared for release back into the wild (pictured top).
'I've seen orang-utans in the wild,' explains Judi.
'But I wanted to see the work being done to rehabilitate orang-utans and witness them on their journey back to the wild.'
Not all the animals Judi comes across are cute and cuddly, either.
There's a scary moment when she gets up close to a deadly saltwater crocodile.
'I got a bit closer than I intended,' says Judi.
'They can grow up to 20ft long and they claim human victims.
'You wouldn't want to fall into the water!'
TV Times rating: ****
Get the latest updates, reviews and unmissable series to watch and more!
Thank you for signing up to Whattowatch. You will receive a verification email shortly.
There was a problem. Please refresh the page and try again.