The Little Drummer Girl – BBC1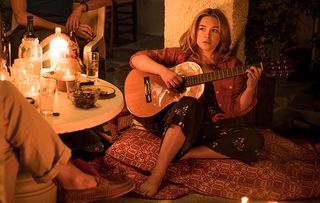 (Image credit: BBC / The Little Drummer Girl Di)
The Little Drummer Girl is another gripping Le Carré spy novel adapted for TV
The Little Drummer Girl is another gripping Le Carré spy novel adapted for TV
After the fervour that surrounded the BBC's last John le Carré adaptation, there are high hopes for this new six-part spy thriller and while it burns slower than The Night Manager, it's still an utter treat.
Set in the 1970s, tonight's opening episode follows talented actress Charlie, played by rising British star Florence Pugh, as she's inducted into a murky world of espionage by Israeli intelligence officer Becker (Alexander Skarsgård).
Her vitality and passion are perfectly complemented by his icy charisma and they make a promising couple, but it's the unforgettable Michael Shannon, playing spymaster Kurtz, who steals the show.
During a break in filming, Florence, 22, and Alexander, 42, give us clues about what's in store… For the full interview see TV Times on sale 23 October.
What appealed to you both about this particular drama?
Alexander Being in a John le Carré adaptation was a very exciting prospect. I was brought up on his work because my father [Mamma Mia! star Stellan Skarsgård] absolutely loved his books.
When I told Dad I was doing this, he took me out to dinner and wouldn't stop talking about it.
Florence I was hooked on The Night Manager when it was on, so I was desperate to do this. I was worried they'd want a big name to play Charlie, so I was absolutely over the moon when I got the role.
Tell us about your characters…
Alexander Becker's an Israeli intelligence officer operating out of Berlin.
He has been on the trail of an elusive Palestinian terrorist cell, under the control of a man named Khalil, for many years. When they bomb an Israeli diplomat at the beginning of the first episode, he and Kurtz hatch a plan to try and finally catch them.
They think Charlie will be able to help them to set a trap, even though she doesn't know anything about espionage!
Florence I first fell in love with Charlie's character because she's not a super-spy or anything, she is just a normal person.
So the audience is introduced to this world through her. She is very feisty and political, but she can put on a great performance and she has a real talent for connecting with people, which is why Becker thinks she would be perfect for the job.
She doesn't exactly warm to Becker when they first meet, but he's so mysterious that she just has to know more about him. I can't really say too much about it yet, but there's definitely a spark between Charlie and Becker!
TV Times rating: *****
Get the latest updates, reviews and unmissable series to watch and more!
Thank you for signing up to Whattowatch. You will receive a verification email shortly.
There was a problem. Please refresh the page and try again.