Maggie has the day from hell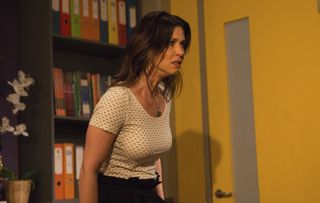 Maggie's day goes from bad to worse...
As Ziggy takes out her heartbreak on Maggie, Ben reprimands his daughter for using Maggie as an emotional punching bag. After dealing with Ziggy's frustrations, Maggie has a drama at school when she sees Raffy reacting violently to Jennifer's teasing. Maggie calls in John and Marilyn, but it's clear Raffy isn't interested in what anyone has to say. Later, things go from bad to worse for Maggie when she's working late and someone tries to break into the school.
Meanwhile, Scarlett is furious to see Caleb on her doorstep and demands to know how he found her. Caleb said when she filed Brody's court documents it was easy to find her. Caleb wants to speak in private but Justin wants a full explanation as to why Scarlett's ex-husband is at her front door. Scarlett convinces both men to go and, the next morning, Caleb makes it clear he wants her back. Is Justin about to lose his girlfriend?
Also, Robbo is left feeling confused when Kat announces it's her birthday. Does she expect him to plan something romantic at such short notice? Or does she really not want a big fuss?
Tobi Oredein is an award-winning women's lifestyle journalist, media entrepreneur and international public speaker based in London, who focuses on race, feminism, beauty politics & popular culture. Tobi has been commissioned by Buzzfeed, British Glamour, Grazia, Elle UK, Fader, The Debrief, The Independent, The Pool, Stylist, Vice and others. She has also interviewed public figures such as Ryan Coogler, Ava Duvernay and Sir Trevor McDonald.
Get the latest updates, reviews and unmissable series to watch and more!
Thank you for signing up to Whattowatch. You will receive a verification email shortly.
There was a problem. Please refresh the page and try again.