The Magnificent Seven - Channel 5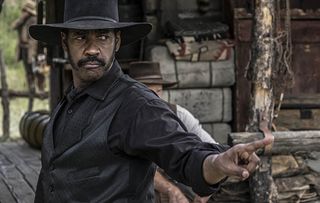 (Image credit: Scott Garfield)
Denzel Washington twirls his six-guns and oozes cool charisma in this remake of John Sturges' classic 1960 Western
Denzel Washington twirls his six-guns and oozes cool charisma in this remake of John Sturges' classic 1960 Western.
This entertaining movie may not be in the same league as its predecessor (itself a remake, of course, of Akira Kurosawa's 1954 all-time-great epic The Seven Samurai), but director Antoine Fuqua ensures that there is still much to enjoy.
The basic plot remains the same, as a beleaguered community turns to a bunch of gunslingers for help. Fuqua, however, puts a different complexion on things. In 1960 the victims and villain were Mexican and their saviours white. Here, a multi-ethnic gang of heroes are the ones riding to the rescue when Peter Sarsgaard's sneering mining tycoon threatens the inhabitants of a frontier settlement.
Feisty young widow Haley Bennett hires Washington's bounty hunter to defend the townsfolk from Sarsgaard's army of thugs. In turn, Washington recruits Chris Pratt's wisecracking gambler, Manuel Garcia-Rulfo's Mexican outlaw, Ethan Hawke's jittery former Confederate sharpshooter and his knife-wielding Korean sidekick Byung-Hun Lee, plus ornery trapper Vincent D'Onofrio and Comanche loner Martin Sensmeier.
While Fuqua's film lacks the infectious camaraderie of the Sturges septet and saves Elmer Bernstein's glorious theme until the closing credits, he does deliver when it comes to the final showdown. It's magnificent, a spectacular shootout that relies on old-school stunt work to make an impact.
This film is also screening on Channel 5 on Wednesday 6 February at 10.00pm.
Get the latest updates, reviews and unmissable series to watch and more!
Thank you for signing up to Whattowatch. You will receive a verification email shortly.
There was a problem. Please refresh the page and try again.