Mason meets Beth's parents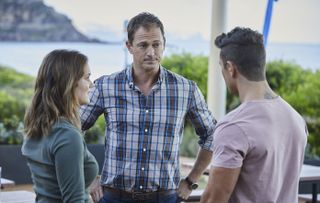 Will Mason and Beth's parents like each other?
Tori is still in shock after her kiss with Ash. She returns home to find Beth and Mason cuddled up on the sofa. As Beth leaves, Mason tries to get her to stay and asks her what her parents think of her relationship. Beth avoids the question, but it's obvious she's hiding something.
The next day, Beth is with her dad and bumps into Mason. It's clear that Beth's father, Alan, knows nothing about Mason, leaving Mason hurt. Beth explains that her parents want her to focus on her health, but Beth's dad decides to invite Mason to brunch to talk properly and to meet Beth's mum, Jackie. Will the brunch be a success?
Tori tells Mason how she has no faith in any relationships. Meanwhile, Hunter bumps into Ash, who pours out his heart and says how much he wants to be with her. Later, Hunter overhears Tori telling Leah how much she wants to be with Ash, unable to keep quiet, Hunter tells Tori to make her move and get her man! Will she take his advice?
Also, Olivia is barely sleeping with all her new orders from customers. She needs as much help as she can get and recruits Hunter, VJ and Coco to help alongside Raffy. Will Olivia get out all her deliveries on time and will VJ break Coco's heart?
Get the What to Watch Newsletter
The latest updates, reviews and unmissable series to watch and more!
Tobi Oredein is an award-winning women's lifestyle journalist, media entrepreneur and international public speaker based in London, who focuses on race, feminism, beauty politics & popular culture. Tobi has been commissioned by Buzzfeed, British Glamour, Grazia, Elle UK, Fader, The Debrief, The Independent, The Pool, Stylist, Vice and others. She has also interviewed public figures such as Ryan Coogler, Ava Duvernay and Sir Trevor McDonald.