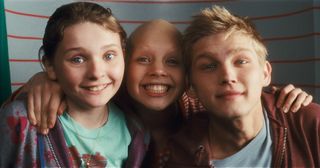 Little Abigail Breslin upstages Cameron Diaz and Jason Patric in a heart-rending Jodi Picoult adaptation
Jodi Picoult's bestseller about a family's struggle with terminal illness makes a sterling, powerfully emotional film, with sensitive direction by Nick Cassavetes and strong ensemble acting. Abigail Breslin (aged 13) upstages all the classy adults as a little girl who was conceived for the purpose of donating bone marrow to her dying sister (Sofia Vassilieva).
The tension mounts at home when she becomes disillusioned - understandably: she has already donated blood, bone marrow and stem cells, so, when her parents (Cameron Diaz, Jason Patric) tell her she must donate one of her kidneys, she consults a quirky lawyer (Alec Baldwin) and files a lawsuit for 'medical emancipation' from her parents.
This unusual, provocative, disturbing material doesn't make comfortable viewing but it is delicately handled, miles away from the soap opera it could so easily have become. This kind of movie isn't everybody's cup of tea, but it's a subtle, intelligent, capable tearjerker and all the performances are as immaculate as the script.
Get the latest updates, reviews and unmissable series to watch and more!
Thank you for signing up to Whattowatch. You will receive a verification email shortly.
There was a problem. Please refresh the page and try again.