Neighbours spoilers: Strewth! It's the 8000th episode of Neighbours!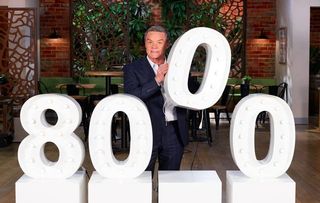 Join Stefan Dennis and the rest of the Neighbours cast for the 8000th episode of the soap, a celebration of life in Ramsay Street!
After almost 34 years on air, Neighbours is already the longest-running drama series on Australian TV and this week it clocks-up its 8000th episode!
In the milestone episode, Toadie Rebecchi and his legal assistant Piper Willis investigate the life and times of the shy and reclusive Valerie Grundy, who has lived in the house on the corner of Ramsay Street for years but has rarely been seen.
When Valerie passes away, Toadie steps foot into her house for the first time ever and discovers Valerie was a hoarder who has collected items left behind by previous residents of Ramsay Street.
Feeling guilty he never really knew Valerie, Toadie starts thinking about all the other people in their neighbourhood who might be lonely and comes up with the idea for a Christmas concert celebrating the wonderful community of Erinsborough.
Meanwhile, Leo Tanaka is thrown into a panic when Delaney Renshaw (the woman in the photograph, which Piper discovered) arrives in town and tries to make a move on him!
Leo warns Delaney he's happy with girlfriend Terese Willis. But Delaney's not a lady to take no for an answer and threatens Leo that he'd better do things her way or she'll let her dad and uncle know Leo was the mystery informant who snitched on the pair to the police and exposed their money laundering operation...
And Elly Conway remains convinced Chloe Brennan's shifty behaviour has something to do with their recent kiss.
Unsure how much longer she can keep her true feelings for friend Elly under wraps, Chloe decides to write her future sister-in-law a letter declaring her love and leaves it in Elly's mailbox...
Neighbours continues weekdays at 1:45pm and 5:30pm on Channel 5
Get the latest updates, reviews and unmissable series to watch and more!
Thank you for signing up to Whattowatch. You will receive a verification email shortly.
There was a problem. Please refresh the page and try again.