Neighbours spoilers: Bea Nilsson is all mixed-up about Finn Kelly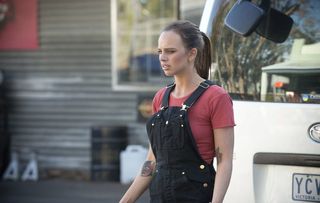 After Bea gets a visit from her ex-fiance Finn's brother Shaun, she's left in a muddle over the truth about Finn. What's going on?
Bea Nilsson has been all mixed-up since she discovered some shock secrets about her hated ex-fiance Finn Kelly's past.
Garage mechanic Bea was really annoyed when she found out her aunt Susan Kennedy had made a contact with Finn's brother Shaun and heard how Finn was once held hostage while travelling in South America.
However, while Susan started to see a more vulnerable side to former teacher Finn, who is currently lying in a coma in hospital, Bea can't forget all the horrible things Finn has done.
But she's left even more confused after a visit from Shaun at the garage, when he retracts everything he told Susan and claims Finn really is a dangerous monster! What should Bea believe?
Meanwhile, Bea's boyfriend Ned Willis is feeling guilty after doing something drastic to try and encourage his girlfriend to move on from her troubled past with Finn. But what has he done?
Elsewhere in Erinsborough, Dipi Rebecchi is struggling to deal with the fact her daughters Yashvi and Kirsha were just held hostage at Harold Cafe's by dangerous Raymond Renshaw.
So when a shaken Dipi returns to the cafe to prepare for its re-opening, she is grateful for some help from friend and neighbour Gary Canning.
However, when the pair work into the night and end up falling asleep, Gary's mum Sheila completely gets the wrong idea when she spots the pair leaving Harold's Cafe together the morning after the night before. Uh oh...
Meanwhile, Sonya Rebecchi thinks Lassiters needs a good cleanse with sage, incense and candles to rid the complex of its bad energy after the shooting at The Waterhole and the siege at Harold's Cafe.
However, it's not long before Sonya and her husband Toadie instead start getting frisky behind the bar at The Waterhole! Unfortunately, they accidentally set the fire alarm off in the process leading to a police bust! Will Sonya and Toadie be caught in the act?
Neighbours continues weekdays at 1:45pm and 5:30pm on Channel 5
Get the latest updates, reviews and unmissable series to watch and more!
Thank you for signing up to Whattowatch. You will receive a verification email shortly.
There was a problem. Please refresh the page and try again.