Neighbours spoilers: Everyone blames Chloe Brennan after wedding day disaster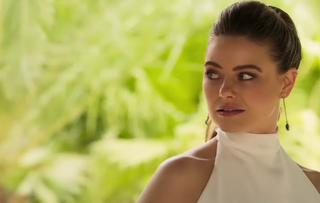 In the aftermath of the bombshell revelation on Mark and Elly's wedding day, poor Chloe suddenly finds herself Public Enemy No.1...
Mark Brennan and Elly Conway's wedding day descends into chaos following the shock bombshell the bride cheated on the groom with his sister Chloe Brennan!
Mark is stunned and shattered by the revelation, while his brother Aaron struggles with the guilt that he knew the shock secret but still let Mark go ahead with the wedding.
As new bride Elly flees from her Big Day, Chloe is left to face the wrath of her family including mum Fay who publicly slaps her for her selfishness!
Chloe is in for more humiliation when Mark turns on her too. And when she realises she has totally misread the situation and there may not be a chance for her and Elly to pursue an official relationship, Elly feels crushed as she is rejected by both friends and family. What will she do now? And will Elly ever speak to her again?
Elsewhere in Erinsborough, Finn Kelly is still claiming he has amnesia after waking from his coma. He can't remember anything about the last 12 years of his life.
However, there are people not buying his claims including ex-fiancee Bea Nilsson who Finn previously menaced, along with her sister Elly and their aunt Susan Kennedy, prompting Susan to shove Finn off a cliff in self-defence!
Determined to find out what's going on, Bea decides to visit Finn in hospital. But she's spooked by the similarity between this new, cheery version of Finn and 'Patrick' - the fake persona he fooled everyone with before. Is Finn still trying to pull fast-one until he can plan his next treacherous move?
Neighbours continues weekdays at 1:45pm and 5:30pm on Channel 5
Get the latest updates, reviews and unmissable series to watch and more!
Thank you for signing up to Whattowatch. You will receive a verification email shortly.
There was a problem. Please refresh the page and try again.