Will Oliver Valentine survive another op on his brain?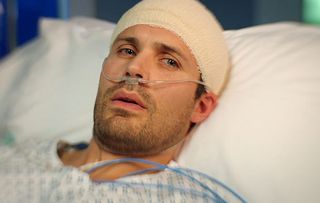 (Image credit: BBC)
The medic fears he'll suffer a setback...
Ever since medic Oliver Valentine was left brain damaged after being shot in the head, neurosurgeon Roxanna MacMillan has been working day and night to aid his recovery. This week, however, Ollie suffers a major setback.
Although Roxanna (Hermione Gulliford) felt it too risky to remove the bullet in Ollie's brain when she first operated, she was able to save his life and has been by Ollie's side as he tries to regain his memory and learn to walk again.
Feeling he's making good progress, this week, Ollie (James Anderson) longs to leave hospital. So he and Roxanna are horrified to learn that the bullet in his brain is starting to leak poison. Without surgery to remove it, he'll die.
Fearing he'll be left paralysed, Ollie refuses to be operated on again. As Roxanna insists, Ollie declares she's become 'obsessed' with saving him because she couldn't save her own husband! Later, Ollie reluctantly agrees to surgery. As Roxanna takes him into theatre, will Ollie suffer any lasting damage?
Meanwhile, Fletch's security measures inadvertently puts a bike courier in a Darwin bed. Unbeknownst to Fletch, however, the courier has just delivered to Jac a replacement for the lost vinyl from Raf's collection. Meanwhile, as a fellow parent, Jac lectures Fletch on the perils of snooping on daughter Evie's phone messages. Can Jac help Fletch bond with his daughter?
Jason's girlfriend Greta turns up on AAU with breathing difficulties. When a shocked Serena discovers the truth about Greta's condition, she's concerned for the couple's future. Also on AAU, Donna tries to find ways to extend Ric's recovery in order to delay his return to prison.
And it's Valentine's Day and Nicky, Meena and Frieda compare their respective Valentine's card haul. Will any of the ladies be lucky in love?
Get the latest updates, reviews and unmissable series to watch and more!
Thank you for signing up to Whattowatch. You will receive a verification email shortly.
There was a problem. Please refresh the page and try again.