Hanssen tells brain damaged Ollie he'll NEVER be a doctor again!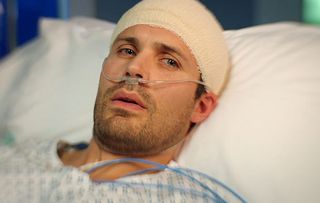 (Image credit: BBC)
Will brain-damaged medic Ollie accept there's no more 'Dr Valentine'?
Desperate to leave hospital and get on with his life after being left brain-damaged, Oliver Valentine gets a rude awakening, this week, when he realises his career as a medic might be over.
Holby boss Henrik Hanssen (Guy Henry) is back on AAU after taking time out to grieve for his dead son Fredrik, the man who shot Ollie in the head before also dying in the incident. Hanssen goes to see Ollie, who claims that, once he's fully recovered, he intends to retrain as a medic.
Hanssen, however, regretfully tells Ollie in no uncertain terms that he can't be cured and that there's 'No more Dr Valentine'.
He refuses to accept this, and when Hanssen reveals he's leading a complicated 10-hour op on a patient with a rare form of cancer, Ollie vows to show Hanssen he still has a doctor's instincts – by turning up at the observation window outside theatre to watch!
He seems hell-bent on exposing Hanssen's own flaws, though, as he repeatedly tries to distract him during surgery by questioning his every move. As Ollie continues to goad Hanssen, he gets exactly the reaction he wants when a flustered Hanssen is forced to walk out of theatre.
Outside, Ollie gloats that he's twice the doctor Hanssen is – but a furious Hanssen bites back, saying Ollie's brain damage means he'll NEVER be a doctor again!
Has their showdown revealed that Hanssen's not yet ready to return to Holby? And can Ollie move on with his life without being Dr Valentine?
Meanwhile in Holby City, unable to shake the guilt over Fiona's death, Essie makes it her mission to uncover what went wrong. How far will she go in her search for the truth? Also, with Jac gone and Fletch wanting answers, Frieda faces a challenging night shift on Darwin.
Get the latest updates, reviews and unmissable series to watch and more!
Thank you for signing up to Whattowatch. You will receive a verification email shortly.
There was a problem. Please refresh the page and try again.