Our Everest Challenge – ITV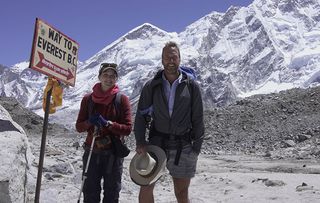 Adventurer Ben Fogle faces the challenge of a lifetime, alongside Olympic gold medallist Victoria Pendleton, to scale Mount Everest
This one-off film follows Ben Fogle and Victoria Pendleton as they attempt to climb the world's highest mountain.
Adventurer Ben has always dreamt of reaching the icy summit.
Meanwhile, his friend Victoria – the double Olympic gold medallist – is never one to shy away from a challenge.
After training for two years, they set off from Kathmandu before trekking to Everest Base Camp to acclimatise.
'We spent two years planning and training with our guide, mountaineer Kenton Cool,' says Ben.
'We trained all around the world, and also did altitude training at a London sports centre.'
'Kenton reminded us that although 4,000 people have climbed Everest, nearly 300 have died on its slopes.'
The pair are excited and prepared, but both are pushed to their absolute limits as they try to reach the top of the world.
TV Times rating: *****
Get the latest updates, reviews and unmissable series to watch and more!
Thank you for signing up to Whattowatch. You will receive a verification email shortly.
There was a problem. Please refresh the page and try again.