Paul O'Grady: For the Love of Dogs – ITV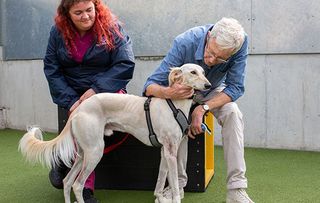 This week at Battersea Dogs and Cats Home, Paul O'Grady attempts to nurse back to health the most badly injured dog he has ever seen, a saluki
At Battersea Dogs and Cats Home, animal lover Paul finds three abandoned canines to fall in love with and who are in need of more than just a little love from the presenter.
In fact, none of the three is in the best of health.
Paul meets a toothless shih tzu named Cookie and Summer (pictured below with Paul), a Yorkshire terrier puppy with an itchy problem – he's riddled with fleas.
Meanwhile, Chester, (pictured, top, with Paul) a saluki, has been badly wounded in a fight and needs an operation.
While he's recovering from his injuries, Paul helps the nervous fella regain his confidence, which is so successful that Chester is able to take part in a dog therapy session at a retirement home.
Battersea's head of canine behaviour and training, Ali Taylor, 52, tells TV Times about the joys of her rewarding job…
What makes your work special? I never look at the clock! I'm doing a job I love and working with people who are as passionate as me about doing the best for dogs in our care. I still feel like the first day I started, when I had butterflies.
It must be a very difficult job at times, though… We do see horrific things. The amount of kittens and puppies abandoned in dustbins or carrier bags is unbelievable – especially when all you need to do is contact us. We're proud that Battersea doesn't turn away any dog.
Do you own rescue dogs? [Laughs as barking starts in the background!] I've currently got five of them as well as foster dogs. Since starting at Battersea in 1992, I've fostered nearly 1,000 animals and owned 27 dogs – not all at once, though!
I've taken dogs from the programme, including Maggie, a one-eyed doberman, and I've also recently taken on a bulldog, who was in a bad way. Some get under your skin. It's part and parcel of life here at Battersea.
Which dogs stand out this series? A Staffordshire bull terrier called Cookie; one of our first dogs who's gone on to work as a detection dog in prisons, which is impressive!
For the full interview see TV Times on Sale 30 October.
TV Times rating: ****
Get the latest updates, reviews and unmissable series to watch and more!
Thank you for signing up to Whattowatch. You will receive a verification email shortly.
There was a problem. Please refresh the page and try again.