Pierce watches the sex tape, unaware Vanessa has clocked him! (VIDEO)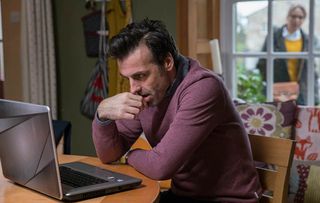 Pierce watches the sex tape he made with Rhona, who believes he's deleted it. Vanessa sees him and vows to make Rhona aware her husband's lied to her.
Pierce has made it his life's mission to alienate Rhona and Vanessa. He wants Rhona all to himself and to make sure his fiancée is unaware of his, er, 'foibles'. But Vanessa isn't about to let her best friend get sucked into a life of misery with a manipulator and won't rest until she's got Rhona to see the light. On her way to make peace with Rhona, Vanessa happens to see Pierce at his computer as she passes the window. She's horrified to see he's watching the sex tape he vowed to Rhona he's deleted, and decides she must tell her unaware friend what's going on.
Laurel braces herself as she tells Gabby and Arthur that their dad has just days to live. Then it's on to the next incredibly hard task: bringing her beloved husband home to die.
Elsewhere, with Aaron due out of prison and Sarah expected home from Prague, Faith suggests the Dingles have a party.
Watch this clip from the episode:
Get the latest updates, reviews and unmissable series to watch and more!
Thank you for signing up to Whattowatch. You will receive a verification email shortly.
There was a problem. Please refresh the page and try again.