Pirates of the Caribbean: Dead Men Tell No Tales - Netflix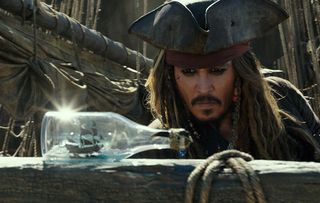 (Image credit: Film Frame)
Johnny Depp's rascally pirate captain Jack Sparrow is back for his fifth adventure
Johnny Depp's rascally pirate captain Jack Sparrow is back for his fifth adventure.
But this time his groggy-from-too-much-grog shtick is wearing very thin, so it's probably a good thing he plays a largely passive role in the plot.
Harking back to the narrative thrust of the first Pirates of the Caribbean film, The Curse of the Black Pearl, in 2003, a younger generation is at the helm of the story.
Brenton Thwaites' callow teenage sailor Henry Turner, son of Orlando Bloom's Will Turner and Keira Knightley's Elizabeth Swann, is looking to free his father from the watery curse that has condemned him to captain the Flying Dutchman for ever.
As his mission unfolds, Henry throws in his lot with Kaya Scodelario's Carina Smyth, a headstrong, orphaned astronomer who possesses part of a map that points the way to the mythical Trident of Poseidon, a handy artefact that has the power to break curses.
Jack is a party to the quest, but in their way stand Javier Bardem's ghostly pirate-hunter Captain Salazar (the film has the alternative subtitle of Salazar's Revenge) and Geoffrey Rush's Captain Barbossa, both of them Jack's sworn foes.
As you might expect, the film is overblown, overloud and overlong. Yet there are still plenty of stand-out moments when this adventure is as entertaining as its predecessors. The sequence in which Jack and his cronies attempt to steal an entire bank (building and all) picks up a rollicking comic momentum, while the episodes involving Bardem's captain and his decomposing crew take your breath away with some truly exceptional visual effects.
Get the latest updates, reviews and unmissable series to watch and more!
Thank you for signing up to Whattowatch. You will receive a verification email shortly.
There was a problem. Please refresh the page and try again.