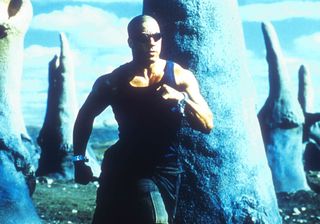 A striking sci-fi with Vin Diesel as a tough guy to savour. 4/5 stars
Diesel, in one of his key breakthrough roles to stardom, sparks up director David Twohy's great-looking sci-fi chiller.
He's a convict who proves a force to reckon with after the spaceship he's travelling in crash-lands on a hostile planet where nasty flesh-eating beasties come out at night - and, as luck would have it, there's a solar eclipse on the way…
Diesel, Radha Mitchell and a handful of other bickering, disposable survivors fight for their lives while the film delivers eye-catching special effects and gory shocks aplenty.
Diesel reprised his role in 2004's The Chronicles of Riddick and 2013's Riddick.
Get the latest updates, reviews and unmissable series to watch and more!
Thank you for signing up to Whattowatch. You will receive a verification email shortly.
There was a problem. Please refresh the page and try again.