Is Professor John Gaskell doomed in Holby City? And is Ric losing hope?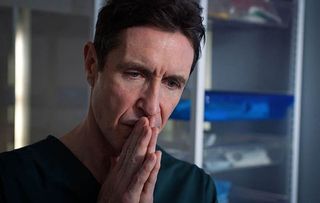 (Image credit: BBC)
It looks like the professor's trial has failed when a patient returns to Holby in a very bad way…
Professor John Gaskell's pioneering stem cell treatment trial suffers a major setback, this week, when a former patient returns with serious complications.
Having already reversed motor neurone disease in one patient as part of the trial, Gaskell was confident he could help MS sufferer Fiona Fawcett walk again by implanting a nerve, taken from her ankle and laced with stem cells, into her spine.
Gaskell's concerned, though, when Fiona is readmitted to the hospital with flu-like symptoms. Gaskell soon diagnoses an infection and is certain that, once they get it under control, Fiona will be right as rain.
Fiona fails to respond to treatment, however, and as she starts to deteriorate, tests reveal her organs are failing. With nurse Essie Harrison fearing Fiona's body is rejecting the implant, Gaskell knows they must operate immediately, to reopen her original wound and pinpoint the source of the infection.
In theatre, Gaskell removes some abnormal-looking tissue but neurosurgeon Roxanna MacMillan suspects the implant has caused the infection and should be removed entirely. Gaskell refuses but a sample he takes from the implant later confirms his worst fears… it did cause Fiona's infection!
Gaskell refuses to come clean to Essie, Roxanna or anyone else about what he knows. When Fiona takes a turn for the worse, will Gaskell be able to save her? And what will this setback mean for the future of the trial?
Is Ric losing hope?
Meanwhile, Serena is dismayed to learn that Ric seems to be losing hope in prison. With Fletch and Donna on hand to help, will they be able to uncover a vital clue that could help prove Ric's innocence?
Also, Jac is back on the ward and back on form, but her cheery attitude is making others suspicious. Will Jac be able to keep her secret safe?
Get the latest updates, reviews and unmissable series to watch and more!
Thank you for signing up to Whattowatch. You will receive a verification email shortly.
There was a problem. Please refresh the page and try again.