Rhiannon's baby bombshell!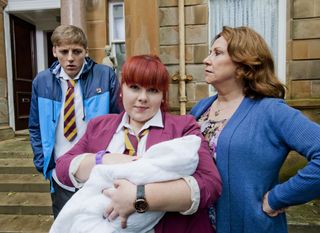 (Image credit: BBC/Shed Productions (WR) Ltd/)
Tempers are running high this week with many of the teenage students suffering sleep deprivation as art teacher Allie rolls out her Virtual Baby Initiative.
Rhiannon is taking virtual motherhood very seriously in a bid to prove to herself she could make a good parent. Unknown to her friends and guardians, she's secretly terrified she's pregnant for real!
Casual boyfriend Darren is disgusted at Rhiannon's fussing over virtual baby 'Beyoncé'. When she reveals she might be really expecting their baby, Darren runs off!
Rhiannon finally confides in Maggie about her pregnancy scare and takes a test, which reveals it's a false alarm. But the experience causes a huge rift between her and Darren. The couple split up as Rhiannon realises Darren's still immature and would never support her…
Elsewhere, dinner lady Carol Barry seizes her chance to make a fast buck and fakes a fall at the school. But her sneaky compensation con hits the skids when head teacher Vaughan calls her bluff and sacks her!
Meanwhile, Justin's campaign against his father's new girlfriend Allie continues. When his anger issues get out of hand at school, Allie is forced to tell Vaughan his son has hurt her in the past…
Get the latest updates, reviews and unmissable series to watch and more!
Thank you for signing up to Whattowatch. You will receive a verification email shortly.
There was a problem. Please refresh the page and try again.