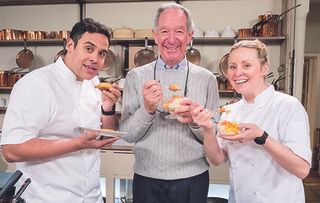 (Image credit: BBC/Spun Gold TV)
Michael Buerk says he's 'always wanted to eat like a king' – and that's just what he does in this daytime series, showing each weekday afternoon
Michael Buerk says he's 'always wanted to eat like a king' – and that's just what he does in this daytime series, showing each weekday afternoon.
Using recipes written down by Buckingham Palace kitchen maid Mildred Nicholls over a century ago, Michael joins Michelin-starred chef Paul Ainsworth to recreate dishes that would have graced royal tables.
Today, the focus is on coronations – which means salmon, spectacular desserts and, of course, coronation chicken.
Thank you for signing up to Whattowatch. You will receive a verification email shortly.
There was a problem. Please refresh the page and try again.