Running Wild with Bear Grylls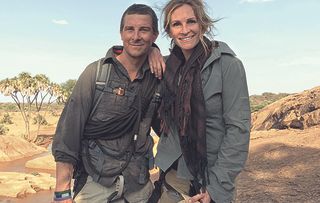 (Image credit: NBCU Photo Bank via Getty Images)
Bear Grylls takes three more celebrities out of their comfort zones, beginning with Hollywood star Julia Roberts
Bear Grylls takes three more celebrities out of their comfort zones, beginning with Hollywood star Julia Roberts.
Her motto 'keep laughing' is put to the test as she embarks on a mission to get life-saving vaccines from Wamba Hospital in Northern Kenya to a remote village that's two days away across scorching bush and croc-infested rivers.
Julia's first challenge is getting over a flimsy rope bridge, before dining on a goat's head.
'I've so much conflict about how I feel about you,' she says to Bear as he hands her some chargrilled brain…
It's fuel before their final push, though – they need to get to the village by morning or the vaccines will spoil.
Get the latest updates, reviews and unmissable series to watch and more!
Thank you for signing up to Whattowatch. You will receive a verification email shortly.
There was a problem. Please refresh the page and try again.