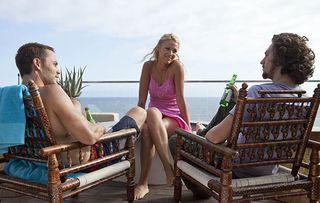 (Image credit: François Duhamel)
Privileged American pot growers Blake Lively, Aaron Johnson and Taylor Kitsch cross Salma Hayek's Mexican drug cartel in this lurid thriller
Privileged American pot growers Blake Lively, Aaron Johnson and Taylor Kitsch cross Salma Hayek's Mexican drug cartel in this lurid thriller.
Lively's rich chick lives in a blissful Laguna Beach ménage à trois with botanist Johnson and former Navy SEAL Kitsch, the brains and brawn respectively of an extremely profitable dope-growing business.
So profitable, indeed, that scary matriarch Hayek wants to go into partnership with them. Given the brutality of her team's methods, this is an offer you can't refuse, but the boys do. When the gang and its lethal enforcer, Benicio Del Toro, raise the stakes to force them to comply, the Americans draw John Travolta's corrupt DEA agent into the fray.
Never known for restraint, director Oliver Stone goes to town with the visuals, switching from arty black-and-white to saturated colour and furiously chopping up the action with jagged editing.
Amid the garish mayhem, the film makes some serious points about US-Mexico relations and the war on drugs, but the story is so overblown that they inevitably get lost. Still, though undoubtedly silly, this flashy thriller is also deliriously entertaining.
Thank you for signing up to Whattowatch. You will receive a verification email shortly.
There was a problem. Please refresh the page and try again.