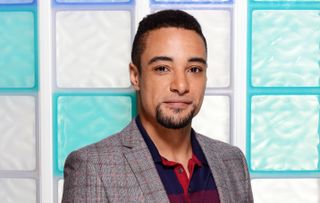 (Image credit: BBC / Kieron McCarron)
Is it the end of an era for Sid?
Sid is a bag of nerves as he makes his way to Priestfield Surgery for his job interview with Claire and her partner Avi Patel. Things get off to a shaky start when he spills water all over himself, but after he cleans himself up, Sid manages to pull himself together.
Sid impresses Avi with his CV and medical accomplishments and things go smoothly; although Avi does intervene when Claire tries to help Sid answer a question in the interview. Afterwards, Sid feels quite pleased with himself. Later that evening, Sid heads off to Claire's house to find out if he's got the job. Will she tell him the news he wants to hear?
Tobi Oredein is an award-winning women's lifestyle journalist, media entrepreneur and international public speaker based in London, who focuses on race, feminism, beauty politics & popular culture. Tobi has been commissioned by Buzzfeed, British Glamour, Grazia, Elle UK, Fader, The Debrief, The Independent, The Pool, Stylist, Vice and others. She has also interviewed public figures such as Ryan Coogler, Ava Duvernay and Sir Trevor McDonald.
Thank you for signing up to Whattowatch. You will receive a verification email shortly.
There was a problem. Please refresh the page and try again.