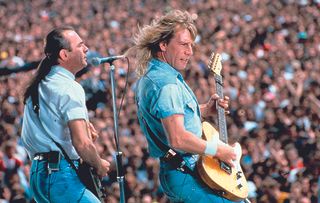 (Image credit: PRODUCTIONS LTD/REX/Shutterstock)
Aside from the divisive Brexit vote and the shock result of the US Presidential election, 2016 became known – rather darkly – as the year of celebrity deaths
Aside from the divisive Brexit vote and the shock result of the US Presidential election, 2016 became known – rather darkly – as the year of celebrity deaths.
Status Quo guitarist Rick Parfitt died on Christmas Eve aged 68 and tonight BBC4 is remembering him with the feature-length Hello Quo followed by Status Quo: Live and Acoustic at 11.20pm.
Hello Quo tells the story of the band from their beginnings in the 1960s and psychedelic hit Pictures of Matchstick Men to hitting their double-denim stride in the 1970s with songs such as Caroline and Down Down.
And, yes, they knew more than three chords…
Thank you for signing up to Whattowatch. You will receive a verification email shortly.
There was a problem. Please refresh the page and try again.