Sweeney Todd: The Demon Barber of Fleet St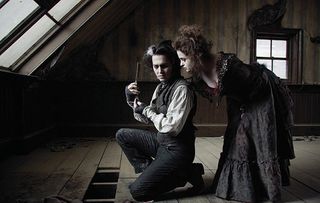 Singing and acting up a storm, Johnny Depp gives a cutting-edge performance as mad Victorian barber Sweeney Todd
Singing and acting up a storm, Johnny Depp gives a cutting-edge performance as mad Victorian barber Sweeney Todd.
He gets into some close shaves as he seeks revenge on London's evil Judge Turpin (Alan Rickman) and starts turning his clients into meat pies, aided and abetted by baker Mrs Lovett (Helena Bonham Carter).
In the hands of director Tim Burton, Stephen Sondheim's great musical is turned into a tasty treat of a movie - though beware it's also very gory.
Depp and Carter couldn't be better - and nor could Rickman, Timothy Spall, as the fussy, creepy Beadle, and Sacha Baron Cohen, who's funny and effective as dodgy crimper Signor Adolfo Pirelli.
Thank you for signing up to Whattowatch. You will receive a verification email shortly.
There was a problem. Please refresh the page and try again.