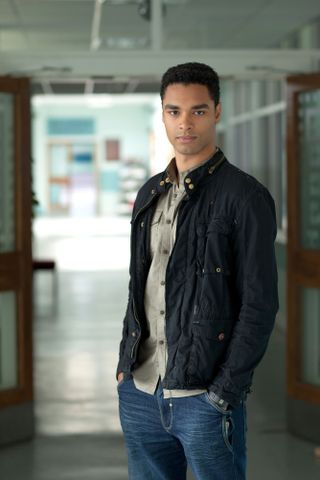 (Image credit: BBC/Headstrong Pictures (WR) Ltd/Laurence Cendrowicz)
Waterloo Road's headmaster Vaughan hires two very different graduate teachers this week. Science teacher Marco (Stefano Braschi) has a corporate background and is strict and formal with the pupils. While art teacher Guy (Rege-Jean Page, pictured) is shambolic, laidback and inexperienced.
Marco's confidence impresses Vaughan, but sexual scandal rocks Guy's reputation when student Lenny twigs he has a past with gifted pupil Carrie Norton. Lenny films the pair embracing and soon rumours of paedophilia shock the school.
Vaughan reacts quickly. He isolates Guy from the pupils, questions Carrie and begins a thorough investigation. It turns out that Guy and Carrie are brother and sister. They've been kept apart by their mother who fell out with Guy after he violently assaulted her husband. Carrie finally stands up to her mother and insists she is going to see her brother, and Guy manages to keep his job despite hiding his conviction for assault.
Meanwhile, Marco takes a shine to deputy head Lorna. And Audrey discovers Christine and George's 'relationship' is a sham.
Elsewhere, Kenzie is shaken when her secret literacy problems become common knowledge. And the school's receptionist Sonya has a horrific health scare, which she confides in Maggie. Also, unknown to Guy's family and colleagues he's homeless and sleeping at the school! And Lauren is keeping a secret from her mum too – why is she pretending that she lives and works in London?
Get the latest updates, reviews and unmissable series to watch and more!
Thank you for signing up to Whattowatch. You will receive a verification email shortly.
There was a problem. Please refresh the page and try again.