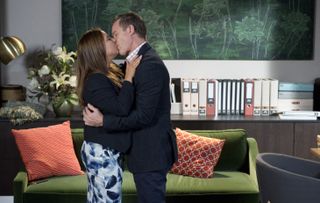 Will Gary find out about Terese's act of betrayal?
After fighting with Gary, Terese is tempted to give up on all her hard work with the hotel as her investors are ready to pull out. Paul gives Terese a resounding pep talk that puts the fire back in Terese's belly. Paul tracks down Terese's investors and makes a final plea in attempt to convince them to not pull out of the Lassiters complex project.
Meanwhile, Gary wants to put things right with Terese and organises a huge surprise. Later, Terese's investor, Mr Udagawa pays her a visit and Terese makes a final passionate pitch to retain their investment and it works! Terese is overjoyed and can't thank Paul enough. In fact, the pair's joy at keeping her investors turns into a kiss and the pair end up sleeping together…
Toadie and Sonya continue to get closer through their couples therapy sessions and through working on the Liveability project. However, Shane and Karl suggest impractical ideas, and in a bid to shut down their ideas, Toadie jokingly suggests they build a tourist attraction, much to the delight of the committee. Will Toadie have to follow through on his idea?
Also, Amy tells Steph that she kissed Nick and hates herself for betraying Paul. Later, Amy tells Nick they can't take things any further, but Nicks asks Amy to have coffee with him and she agrees. The pair continue to flirt and it's clear their chemistry is building…
Get the latest updates, reviews and unmissable series to watch and more!
Tobi Oredein is an award-winning women's lifestyle journalist, media entrepreneur and international public speaker based in London, who focuses on race, feminism, beauty politics & popular culture. Tobi has been commissioned by Buzzfeed, British Glamour, Grazia, Elle UK, Fader, The Debrief, The Independent, The Pool, Stylist, Vice and others. She has also interviewed public figures such as Ryan Coogler, Ava Duvernay and Sir Trevor McDonald.
Thank you for signing up to Whattowatch. You will receive a verification email shortly.
There was a problem. Please refresh the page and try again.