The Day We Walked on the Moon – ITV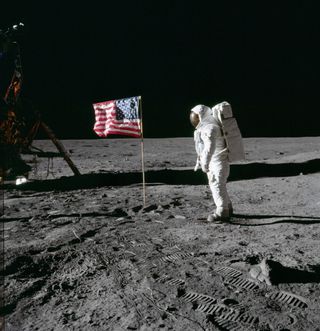 ITV's The Day We Walked on the Moon relives the historic first moonwalk and talks to the families of the astronauts involved
ITV's documentary The Day We Walked on the Moon celebrates the 50th anniversary of the first moonwalk by retelling that groundbreaking mission.
Featuring interviews with members of mission control, the astronauts' families and celebrities, this is the tale of that famous moment and its legacy. 
As Apollo 11's lunar module landed on the Moon during the early hours of Monday 21 July 1969, half a billion people watched Neil Armstrong step out of it to become the first man in history to set foot on the Moon.
None of those watching along at home were as nervous as astronaut Buzz Aldrin's young son, Andrew.
MORE: 8 Days: To the Moon & Back – BBC2
'My father soon joined Neil Armstrong on the Moon's surface,' says Andrew.
'I was convinced he would trip and fall flat on his back in front of 600 million people – but most importantly, my 200 classmates!
'I was terrified that my dad wouldn't come home,' he adds.
'So when the ascent rocket fired, the monster that lived under my bed was slain!'
TV Times rating: *****
Get the latest updates, reviews and unmissable series to watch and more!
Thank you for signing up to Whattowatch. You will receive a verification email shortly.
There was a problem. Please refresh the page and try again.