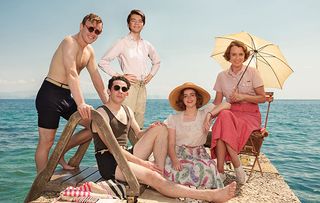 (Image credit: ITV)
It's back to Corfu to visit Louisa and her family as hit ITV drama The Durrells returns for its fourth and last ever series
It's back to Corfu to visit Louisa and her family as hit ITV drama The Durrells returns for its fourth and last ever series
The Durrells, the dreamy, idyllic drama, is back for one final series, so make the most of the sun-soaked vistas while you still can!
As we rejoin Corfu's most chaotic family, Larry is struggling to get any peace to write his book, Leslie is still pining for Daphne, Margo decides to take up hairdressing, and Gerry has a new pet: a fabulous owl called Ulysses!
It's Louisa we're most concerned about, though, after her heart was shattered last series when she realised she could never be with Spiros, and now she barely sees him.
Perhaps opening the house as a B&B will distract her…
Keeley Hawes, 43, who plays Louisa, has made no secret of her fondness for both the books and the small-screen adaptation and is rather emotional about leaving.
Here, Keeley reflects on Louisa's final chapter and saying goodbye to her on-screen family…
Where do we find Louisa at the start of series four?
She's trying to move on, because she has to – she's in love with a married man and it's not going to go anywhere, so she has to pick herself up.
It's awkward between Louisa and Spiros because they have declared themselves, so they are now wondering how to get their friendship back on track.
She is finding it really tough with her children, too, because Margo's trying to grow up and become a woman, and Larry needs to spread his wings.
She gets very emotional, so she has decided to concentrate on opening up the house as a B&B instead, but she only has one paying guest to start with: her second cousin Basil!
You're such a close-knit cast – how does it feel to say goodbye?
It's so bittersweet, as we are like a family now.
Playing the mother, I've watched them all grow up, and Milo [Parker, who plays Gerry] has a moustache now!
It's lovely to be able to finish off the show and tell the Durrells' whole story; it would have been awful if ITV had stopped us earlier, especially after the heartbreaking ending with Louisa and Spiros last year.
Was it tough to leave the Durrell house for the last time?
Well, I wanted to stay in Corfu as I think Bodyguard was still on at the time!
We'll all be going back.
The island is like a second home to us now, and we know all the places to go to.
The best thing is seeing people's faces when the cast go out together, as they realise the Durrells are out for dinner!
Is it definitely the end?
I know we'd all be up for something like a spin-off and I think people who love the show would be keen, too…
I go to work on other shows now and I think, 'Where's all the fun stuff?' I miss the animals!
TV Times rating: *****
Get the latest updates, reviews and unmissable series to watch and more!
Thank you for signing up to Whattowatch. You will receive a verification email shortly.
There was a problem. Please refresh the page and try again.