The Restaurant That Makes Mistakes – C4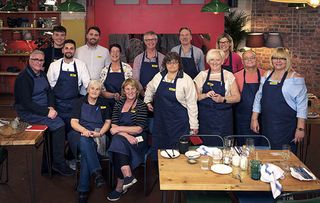 (Image credit: Joss Barratt)
Why a groundbreaking new four-part C4 series is opening a restaurant staffed by people living with life-changing dementia
Why a groundbreaking new four-part C4 series is opening a restaurant staffed by people living with life-changing dementia
Can running a restaurant improve the lives of 14 people with dementia?
The Restaurant that Makes Mistakes, C4's new four-part experiment, challenges the perception that the workplace is off-limits for those with dementia and that life stops after diagnosis.
Volunteers include former doctor Avril Staunton, 63; Jacqui, 61, a legal rep who lost her home after her diagnosis; and Jordan, 23, who has Pick's disease.
Michelin-star chef Josh Eggleton and Dr Zoe Wyrko run the project, which sees David Baddiel, Hugh Bonneville (who also narrates) and Rachel Riley popping in for a bite to eat.
'We follow the journey of 14 incredible volunteers [pictured above] who are living with some form of dementia.
'You'll laugh and cry but, ultimately, you'll find it uplifting,' promises executive producer Trish Powell, who, here, in an exclusive interview, tells TV Times more about the series…
Why did you want to tackle the topic of dementia in this way?
It's a dark subject that no one wants to think about but, as one in three of us will develop the condition, it affects us all.
We wanted to take the fear out of dementia, empower people who are living with it and show employers that they shouldn't write sufferers off, as many still have plenty to give.
Why did you choose a restaurant as the workplace for the show?
We saw that a pop-up restaurant staffed by people with dementia had been opened in Tokyo, with the aim of teaching the Japanese to be more tolerant.
It was a huge success and we thought, 'What a great way to raise awareness here'.
The Tokyo restaurant only hired older people with dementia and only let them serve food and drink, whereas we wanted to give people with young-onset dementia [those of working age] the full responsibilities of running a restaurant.
Tell us about the volunteers who took part in the experiment…
They're wonderful.
There's Avril, a 63-year-old renowned obstetrician and gynaecologist whose speech was affected after her diagnosis in 2015.
She couldn't remember her age and she struggled with simple tasks like cutting bread – she got confused and kept pulling it.
There were tears but she never gave up and the change in her over the series was incredible.
At the start of the experiment, tests showed that a third of the volunteers had depression, while a quarter suffered from anxiety after being diagnosed.
By the end of the series, not one tested as depressed or anxious any more.
As Avril said, the work had given her purpose and made her feel valued.
There's also Roger, who's 64 and used to travel the world working for Formula 1 race drivers.
He was trained to work as a waiter in the restaurant but kept wandering off until we realised his reading and writing had been affected by his condition and he was embarrassed.
Two other volunteers, Sue and Peter, stepped in to help him take orders.
One of the biggest joys of the series was seeing how the volunteers pulled together.
They realised they're not going through dementia alone.
What were the paying customers like and how did they respond?
They were lovely.
Of course, there were mistakes – prawn cocktails came out half-made; a vegan dish got swapped at the counter; a chocolate torte was served upside down and some diners waited 40 minutes to order their meals – but none of them complained.
How did the volunteers feel by the end of the series?
Ecstatic, but also sad because they didn't want it to be over – they'd loved working in a stimulating environment again.
They'll definitely keep in touch as they went on an incredible journey, from having little catering experience to cooking beef Wellington and serving canapés in Bristol's City Hall.
It just shows no one should be written off because of a diagnosis.
I really hope we all look at dementia differently after this.
TV Times rating: ****
Get the What to Watch Newsletter
The latest updates, reviews and unmissable series to watch and more!