Tom and Nicki rush to Josh's rescue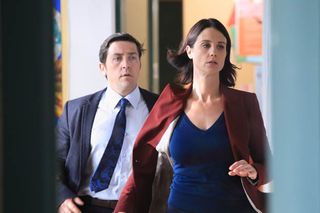 (Image credit: BBC/Shed Productions)
Zack starts to become suspicious that he's Jez's son when he notices just how many differences there are between them. So he takes it upon himself to apply for a DNA test. Meanwhile, Matt goes to visit his new daughter, Martha. She's on the mend and seems to be getting better by the day. However, Rosie has some news for him that threatens to turn his whole world upside down. She tells him that she's fallen for Dr Alex – one of the doctors at the hospital where Martha's being looked after. He's just been offered a job in Bristol, and she says that they might be moving down there – and taking Martha with them. Matt is absolutely distraught. Then, when a fire alarm goes off, Josh starts acting really strangely. As all of the other pupils file outside, he begins punching the glass and breaking several of the fire alarms around school. Cut and bloody, he hides in a room by himself. Tom and Nicki are incredibly worried, and when they find him, he seems very distressed. Nicki suggests that Tom takes his son to the GP, and when he does, it's bad news. The doctor says that Josh is displaying the symptoms of a psychotic breakdown, and that if it persists, it could be schizophrenia. Zack gets the results from the DNA test, which reveals that he is indeed Jez's biological son.
Get the latest updates, reviews and unmissable series to watch and more!
Thank you for signing up to Whattowatch. You will receive a verification email shortly.
There was a problem. Please refresh the page and try again.