Tom leaves Waterloo Road with a bang!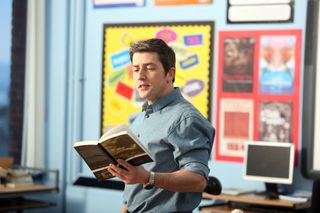 (Image credit: BBC/Shed Productions (WR) Ltd)
It's the final episode of Waterloo Road, and Tom Clarkson's eight years at the school are drawing to an end.
Everyone is thrilled that Grantly is back at the school after he narrowly avoided death. However, he's living on borrowed time and he desperately needs a kidney transplant. Tom is preparing himself to donate an organ to his lifelong friend, but Grantly is being stubborn and doesn't want to put his friend through a difficult procedure on his behalf.
It takes Grantly's wife Maggie to step in with some strong words for her husband to make him see sense.
Meanwhile, troublesome former student Kyle Stack is out of prison. He wastes no time in turning up unexpectedly at Waterloo Road and disrupting life for staff and pupils. He wants to rejoin the school, and friend Rhiannon is eager to help him. Tom is quick to eject the unruly pupil, but when Kyle's behaviour starts to change, Tom wonders if there is more to his return than he's letting on.
A charity auction is then held for Grantly, which culminates in a fantastic fireworks display above the school. But Kyle is shortly discovered behaving erratically and alone on the roof of the school. Tom attempts to step in and help, leading to a horrific twist and tragedy when he falls from the top of the building.
Get the latest updates, reviews and unmissable series to watch and more!
Thank you for signing up to Whattowatch. You will receive a verification email shortly.
There was a problem. Please refresh the page and try again.