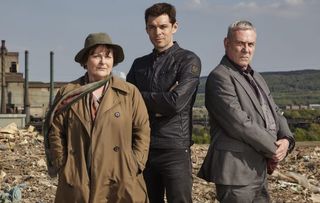 Brenda Blethyn returns as the sharp-tongued 'tec for a ninth series of crime drama Vera
Brenda Blethyn returns as the sharp-tongued 'tec for a new series of Vera
It's time for DCI Vera Stanhope (Brenda Blethyn) to pull on her dowdy mac and hat and hop in the Land Rover as she and colleagues DS Aiden Healy (Kenny Doughty) and DC Kenny Lockhart (Jon Morrison) return for a ninth series and a new batch of murders.
Things get off to a bleak start when the body of a young woman is found dumped in a landfill site.
Former Doctor Who star Peter Davison plays the victim's colleague, and Adrian Lukis stars as her father, who is feeling the strain of a very tangled personal life.
Game of Thrones actor Paul Kaye joins the cast as new pathologist Dr Malcolm Donohue, who rubs Vera up the wrong way!
Here, Brenda, who looks at least a decade younger than her 72 years, reveals what awaits the North East's answer to Miss Marple in series nine…
Tell us about Vera's opening case, Blind Spot…
Vera and Aiden have to investigate the murder of a trainee forensic psychologist, whose body has been found dumped on a landfill site. It was a hot Summer's day when we filmed it – the stench of methane was disgusting!
There is a new pathologist working with Vera this series, Dr Malcolm Donahue, played by Paul Kaye…
Yes, Paul himself is gold dust; he's terrific and such a joy to work with. I remember when he used to be comedy character Dennis Pennis – he used to frighten the living daylights out of me. That was around the time I was doing a lot of red-carpet events and I thought, 'I really hope I don't come across him!' But Paul couldn't be more different from Dennis Pennis – they're chalk and cheese!
How do Vera and Dr Malcolm get on?
They tolerate each other to get the job done but he's got no time for her. When Vera finds out she has to work with him she's almost rolling her eyes because he's such a miserable git! He's got his own agenda and sticks to the rules, unlike her.
What is it you like about Vera?
I love the way she doesn't beat about the bush, she calls a spade a spade, and she's fair. It's such an enjoyable job because we all get on so well.
Did your cockapoo dog, Jack, make it into any scenes this series?
No, although if you look closely at DC Mark Edwards' desk, there's a photograph of Jack on it! Vera's not the sort of person to attach herself to a dog. She'd treat a dog in the same way she treats everyone: 'Go on! Clear off!'
The North East has really embraced Vera – there's even a stall in Newcastle selling her headwear!
I take my hat off to that! They told me they do a roaring trade. Once when I stopped to chat, a couple stopped at the stall and explained they'd come to Newcastle for their anniversary as they'd met at Newcastle university and they were hoping to see some Vera locations. They nearly fainted when they saw me standing there next to them at the same stall!
TV Times rating: *****
Get the latest updates, reviews and unmissable series to watch and more!
Thank you for signing up to Whattowatch. You will receive a verification email shortly.
There was a problem. Please refresh the page and try again.