Will Harry fight for Mary-Claire?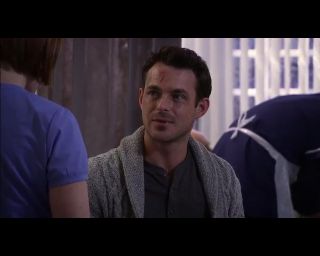 When nurse Mary-Claire got the call offering her a job in Chicago, she almost turned it down because she didn't want to leave her lover, Harry, who was recovering from facial reconstructive surgery. Doctor Harry knew he'd need time to come to terms with his damaged face and, not wanting to stand in the way of Mary-Claire furthering her career, he selflessly urged her to go to America without him.
So, as Mary-Claire prepares to leave for America, this week, she's unimpressed when Harry turns up on the ward to receive some aftercare treatment. Feeling rejected and, wanting answers from Harry, Mary-Claire offers to take care of his procedure. Harry clearly has something he wants to say to Mary-Claire, but she becomes riled by his presence and orders him to leave.
When Raf notices Harry's left his jacket behind and hurries to get it out of Mary-Claire's sight, a small red box falls out of the pocket with a ring inside. What's Harry planning? Later, there's no sign of Harry, as Mary-Claire prepares to set off for the States alone as planned. At that moment, Fletch leads Mary-Claire to an ambulance where Harry is waiting inside and he's made a big decision about his future…
Meanwhile, uncertain of Jac's commitment to the newly launched Supercentre and with new demands on Darwin ward, Guy is feeling the pressure. When Ric reminds him that his new CEO contract needs signing and that the new post stipulates he'll have to give up all clinical duties, Guy must decide if he's a CEO or a surgeon…
Also, Dominic and Zosia learn that Sacha stayed out all night and can't help but speculate on where he's been. Essie, alert to this particular hospital gossip, is determined to find out the truth. But where did Sacha go - and who was he with?
Get the latest updates, reviews and unmissable series to watch and more!
Thank you for signing up to Whattowatch. You will receive a verification email shortly.
There was a problem. Please refresh the page and try again.