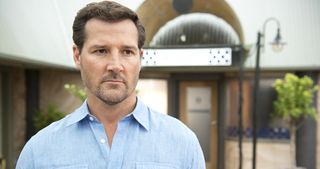 Tensions are running high between Matt and Lauren and Matt's furious to learn his wife has confided in Brad. Sharon, who's had a run-in with Sheila over Kyle, and been told she has to stay at the hotel, encourages Matt to drink away his troubles and later Terese spots them kissing passionately outside Sharon's hotel room.
When Nick tries to apologise for the bet, Georgia's response is to dump iced coffee on him. Embarrassed, his stutter surfaces and Georgia regrets her actions. Later, Georgia apologises for giving Kyle a hard time and the pair kiss. Kyle warns Nick to leave Georgia alone. Nick retorts that he has no more use for Kyle's wife.
Nina Tucker is back in Erinsborough and books into the hotel under a pseudonym. She revisits old haunts and is clearly feeling nostalgic for the simpler life she once had. When she returns to her hotel room, an apologetic Terese explains a housekeeper quit and the room is a mess. Seeing an opportunity to recapture her past, Nina spontaneously offers her services to Terese as a fill-in housekeeper.
Get the latest updates, reviews and unmissable series to watch and more!
Thank you for signing up to Whattowatch. You will receive a verification email shortly.
There was a problem. Please refresh the page and try again.